Cecil The Lion: Saving Our Wildlife, A Visit to Cecil's Home
September 2 – 9, 2019
Featuring Victoria Falls, Hwange National Park, Kampala and Bwindi Impenetrable Forest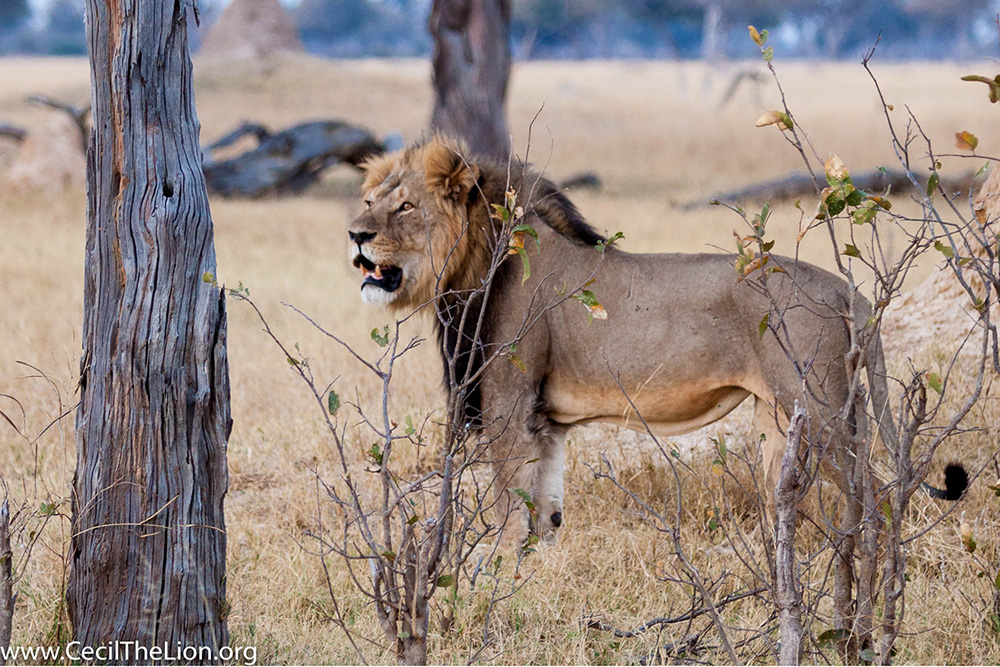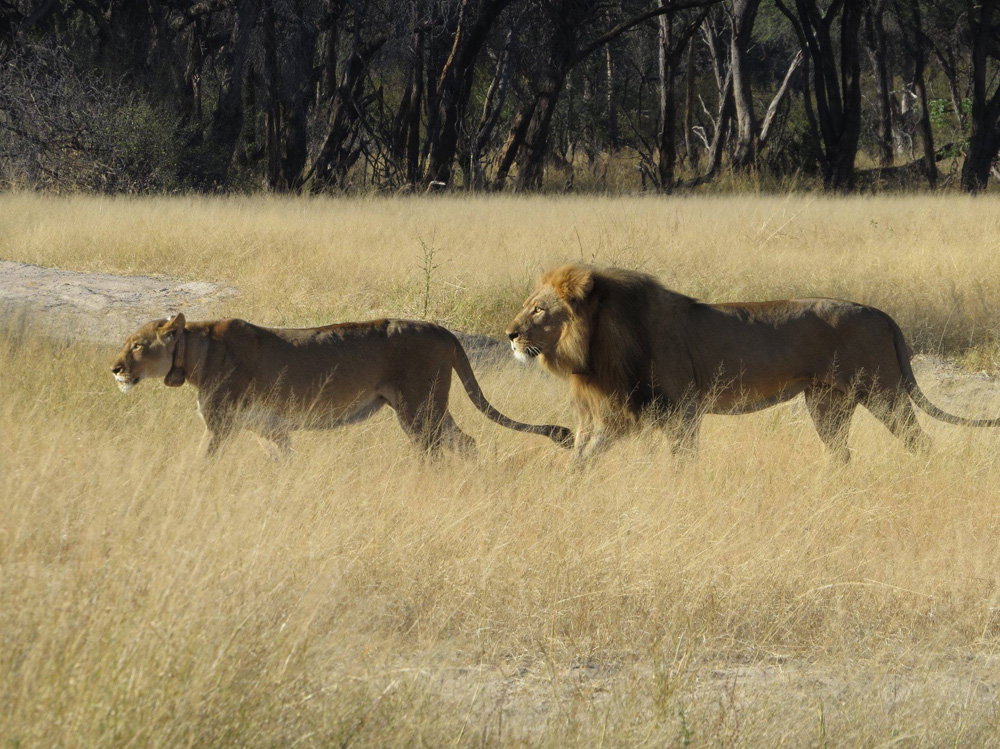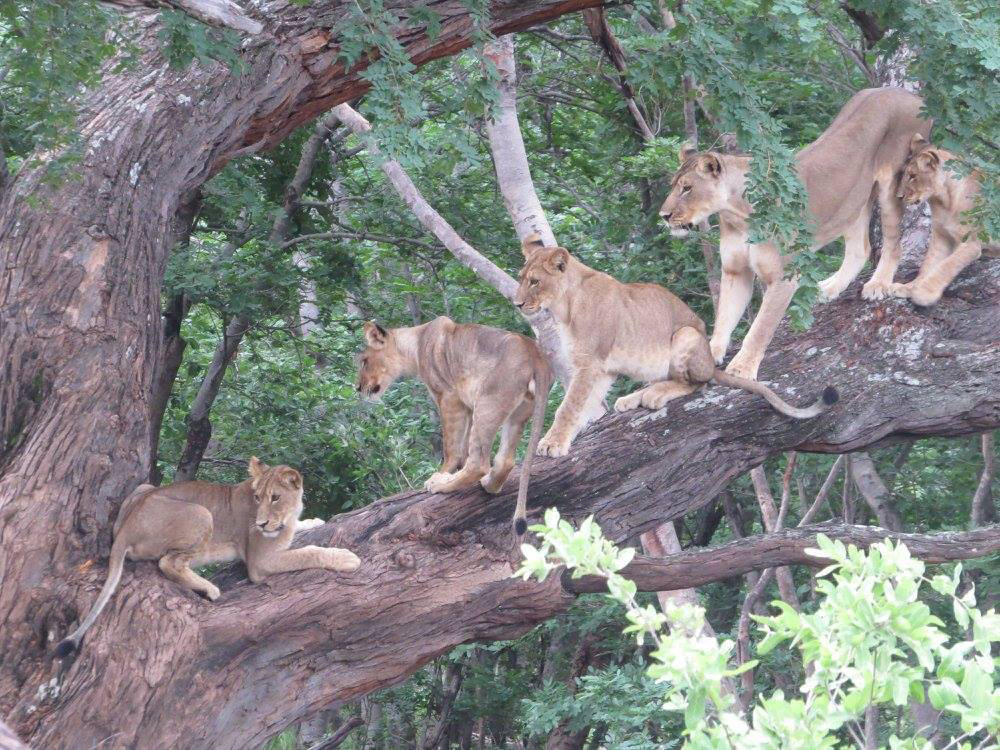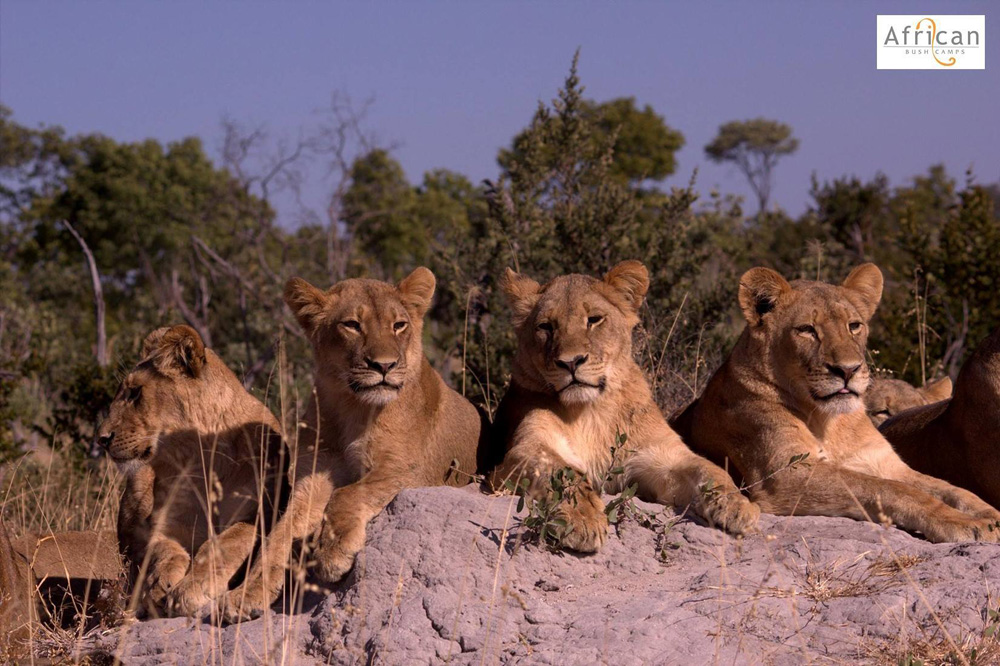 ---
Day 1: Monday, September 2, 2019 – Victoria Falls
Welcome to Africa. On arrival in Johannesburg International Airport, you will need to clear South African immigrations, collect your luggage and proceed through customs.
You will then transfer and check in for your international flight to Victoria Falls, Zimbabwe. (This flight needs to be booked and is not included in the itinerary costs.)
**Depending on your international arrival and connecting with the JNB-VFA flight, you may need to add an overnight in Johannesburg. (additional cost will apply)
Welcome to Victoria Falls. On arrival at Victoria Falls Airport you will need to clear Zimbabwe's immigration & passport controls and collect your luggage.
You should then proceed to the arrivals hall where you will be met by your guide (look for your name on a sign) and transferred to Batonka Lodge.
Batonka Guest Lodge
Batonka Lodge is conveniently located within easy access to Victoria Falls National Park and the many activities to be enjoyed in the area. The property has 22 rooms, each with an en-suite bathroom and balcony. The rooms are comfortably furnished and provide TV, wifi, air conditioning, universal chargers and a tea/coffee station for guest comfort and convenience. While Batonka was built primarily with visitor's comfort in mind, the lodge sets being environmentally friendly as a priority.
The main area has dining facilities, lounge areas, a curio shop and reception, which is available to guests 24 hours a day. Dining can be enjoyed either indoors or on a spacious and outdoor terrace area overlooking the garden and swimming pool. There is a comfortable lounge area inside with a fireplace, and an outside lounge area is also available for guests to enjoy time in the fresh air.
Accommodation: 1 x standard room on bed and breakfast basis for 3 nights
Sunset Cruise – This afternoon (after settling in a bit), you will be collected from the hotel lobby and driven to the Zambezi River above the Victoria Falls for a sunset cruise. You will enjoy cruising the placid, upper Zambezi River and celebrate the setting African sun setting on the river. Share in the end-of-day ritual which sees wild herds streaming to the river banks for their last drink. Flocks of birds skim the waterline as the sun sets behind the African skyline. Bring a camera and create your own golden memories as you look for wildlife. You may have the opportunity to see a variety of game; including hippo, crocodile and elephant swimming across the Zambezi. While aboard the lovely Zambezi Reflections, you will also enjoy a delicious gourmet dinner.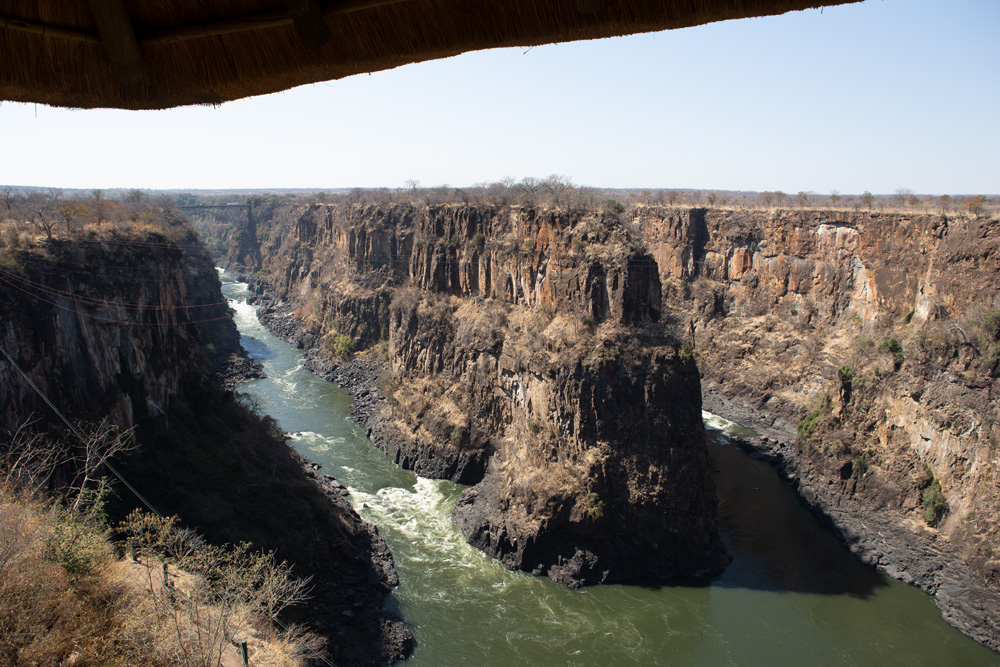 ---
Day 2: Tuesday, September 3, 2019 – Victoria Falls
Tour of Victoria Falls – This morning, you will take a trip to the Victoria Falls and enjoy a fascinating tour. When David Livingstone first saw the falls in 1865 he was in the company of 2 local tribesmen who showed him this Mighty Wonder of World. This site today is a world heritage site with the largest single curtain of falling water on the planet, also known as "The Smoke that Thunders."
You will enjoy a private guided tour of Victoria Falls. The tour will begin with a visit to the world renowned Victoria Falls where you will explore the geological history of the area that created this magnificent spectacle. The sights, sounds, and aromas of the Falls are truly an awe-inspiring experience that provokes humbling feelings from within – here, indeed, is nature's supreme masterpiece. No photograph can begin to depict the reality, and nothing prepares you for your first sight.
After your Tour of the Falls, lunch will be served at Lookout Restaurant at the Victoria Falls Gorge.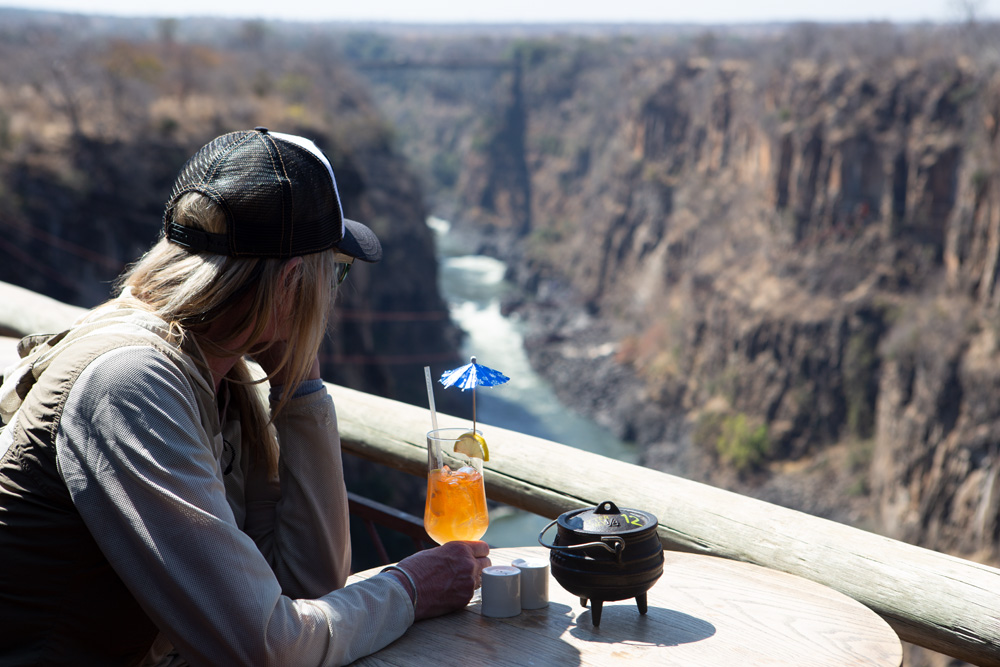 The Lookout Restaurant
· Spectacular views of the Batoka Gorge, Vic Falls Bridge and Spray of the Falls
· Semi open-air café with refreshing beverages and a lively cocktail menu
· Cafe style cuisine with offerings to suit every taste and occasion
The Lookout Restaurant is 120 meters above the Zambezi River, overhanging the giant Batoka Gorge, just down from the iconic Victoria Falls Bridge.
Victoria Falls Anti-Poaching Unit
This afternoon, we will hear a presentation and learn about the Victoria Falls Anti-Poaching Unit with Charles Brightman – Victoria Falls Anti-Poaching Unit (VFAPU) was established by Charles Brightman, a Professional Guide, local safari operator, and conservationist, together with the Victoria Falls Safari Lodge. VFAPU has since worked in close cooperation with the National Parks and Wildlife Management Authority and the Zimbabwe Republic Police on anti-poaching efforts. They patrol a 50 square kilometer area around Victoria Falls with 18 full-time scouts to combat poaching in all its forms. Whilst VFAPU's activities are largely directed at the removal of snares and the apprehension of subsistence and commercial poachers, a great deal of time is spent educating and reinforcing the benefits of conserving the areas natural resources.
VFAPU's work has been recognized by the Zimbabwe Council for Tourism as the four-time recipient of the 'Green Globe 21 Award' for Conservation Efforts in Zimbabwe. Charles Brightman has been personally recognized as a finalist in the Safari Awards category for 'Best Personal Contribution to Wildlife Conservation'.
Dinner tonight is at The Palm Restaurant at Ilala Lodge. A warm welcome awaits you at our world class a la carte Palm Restaurant, where breakfast lunch and dinner is served daily. We offer superb cuisine while you relax and enjoy the atmosphere of the gracious surrounds. Dining outside under the African night sky amidst the sound of the mighty waterfall makes for an unforgettably romantic evening.
Ilala Lodge offers the discerning guest a flavor fantasy at our la carte restaurant. We cater for guests staying at the lodge and walk ins looking for the perfect meal to compliment the day. Whether its breakfast, lunch or dinner our dedicated service and kitchen staff will show you the true meaning of fine dining. We also have a pool and cocktail bar that is a sure winner for any end of any day. So come dine with us and taste the real meaning of luxury.
---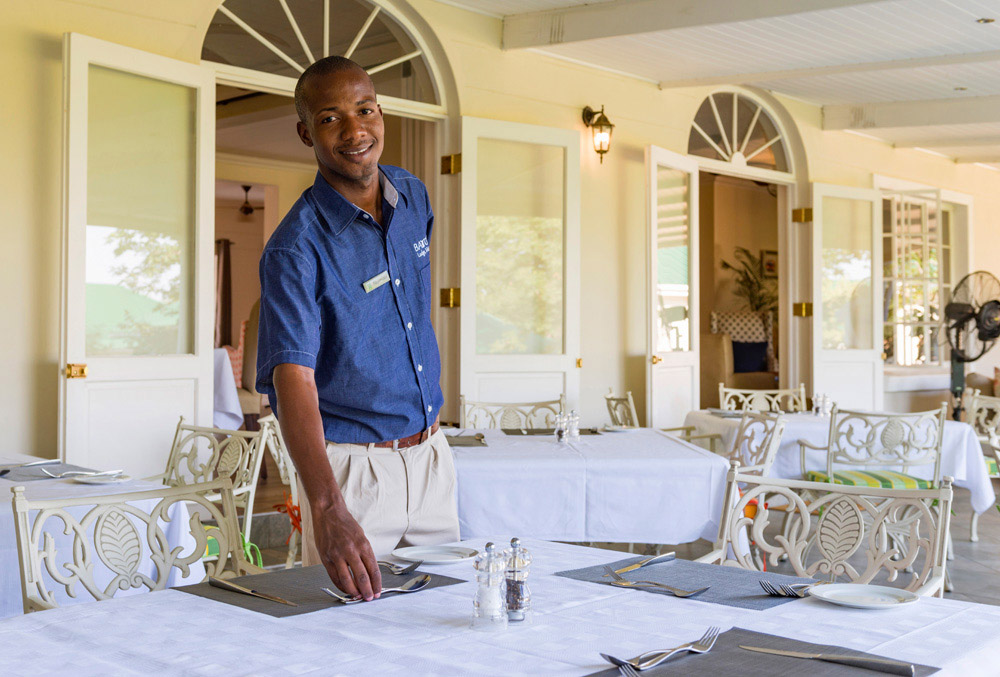 Day 3: Wednesday, September 4, 2019 – Victoria Falls
After breakfast, we will be collected and transferred to Chamabonda National Park with the Bhejane Trust guides and researchers. We will enjoy an informative morning excursion through the park learning about what the program does.

Bhejane Trust ('Bhejane' is the local Ndebele name for Black Rhino) is a non-profit trust, established in 2010 by two Zimbabwean conservationists, Trevor Lane and Stephen Long, initially with the idea of monitoring the Black Rhino population in the Sinamatella area of Hwange National Park in conjunction with the National Parks and Wildlife Authority of Zimbabwe.
The operations of the Trust extend from Hwange National Park to the Zambezi National Park, close to the renowned Victoria Falls, where Trevor has been instrumental in reviving the Chamabonda Vlei section, resuscitating old boreholes, drilling new ones, installing solar pumping units and getting pans revitalized after over ten years of not being pumped. He is also assisting the Parks on road development, fire management, anti-poaching, monitoring game populations, and other facets of restoring this park to its former status.
Much of Bhejane Trust funding comes from a volunteer, or Field Assistance, programs, which makes it possible for conservationists and wildlife enthusiasts to join up with the Bhejane team, and enjoy this rare and exciting opportunity to experience the real Africa of vast, remote places, and to actively assist in the conservation and survival of the magnificent wild animals which inhabit this wilderness.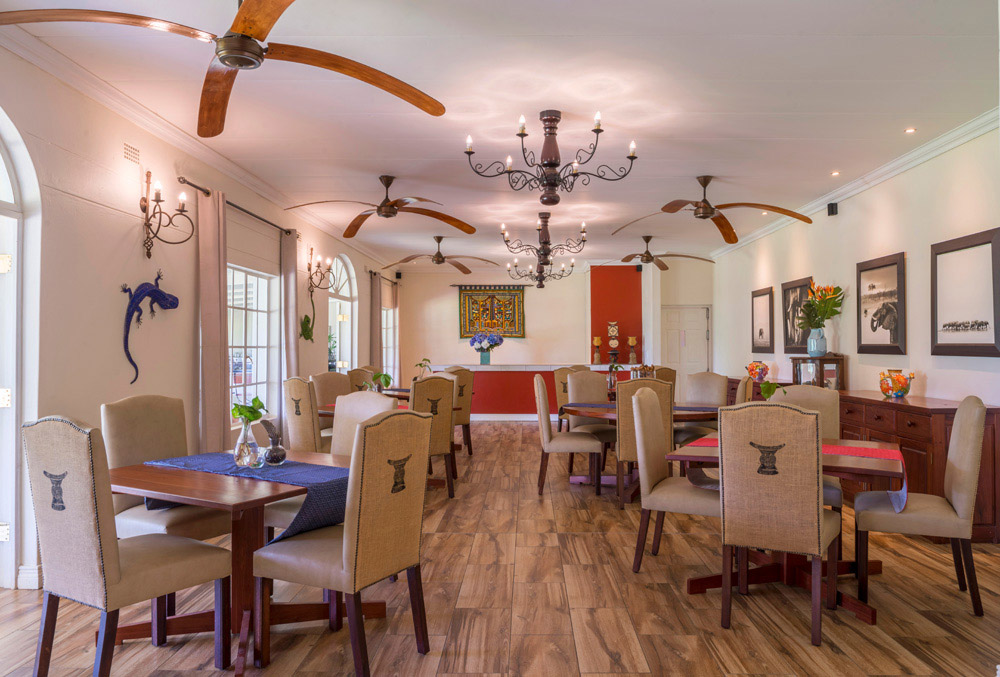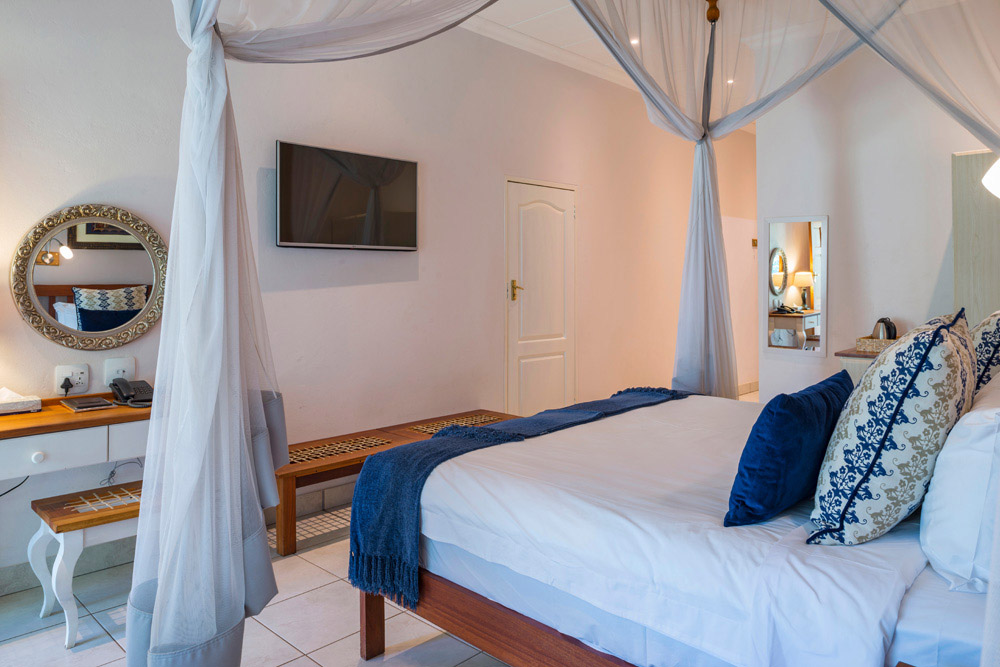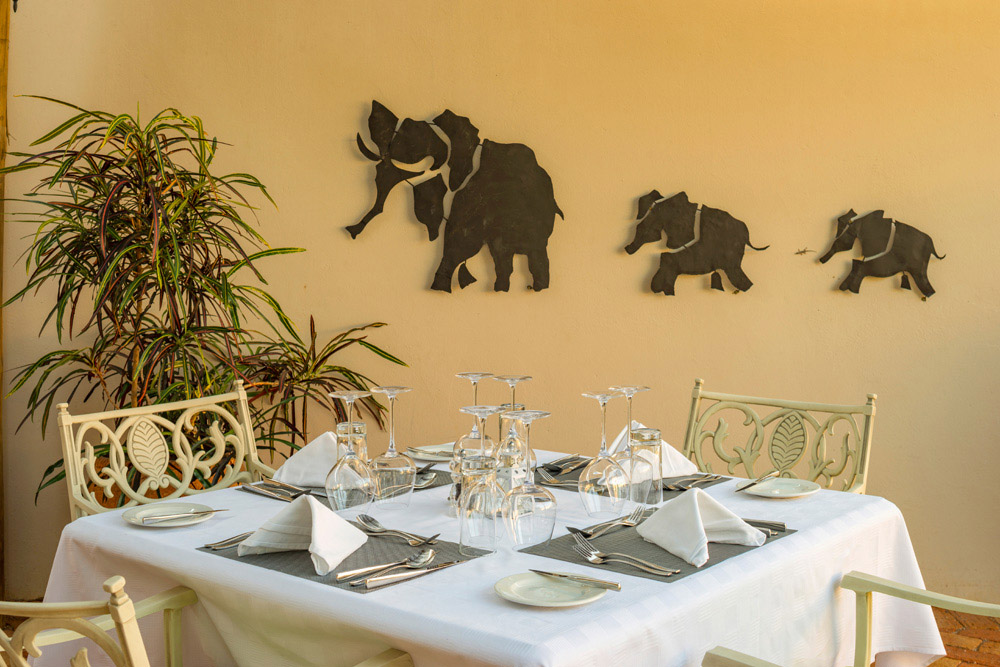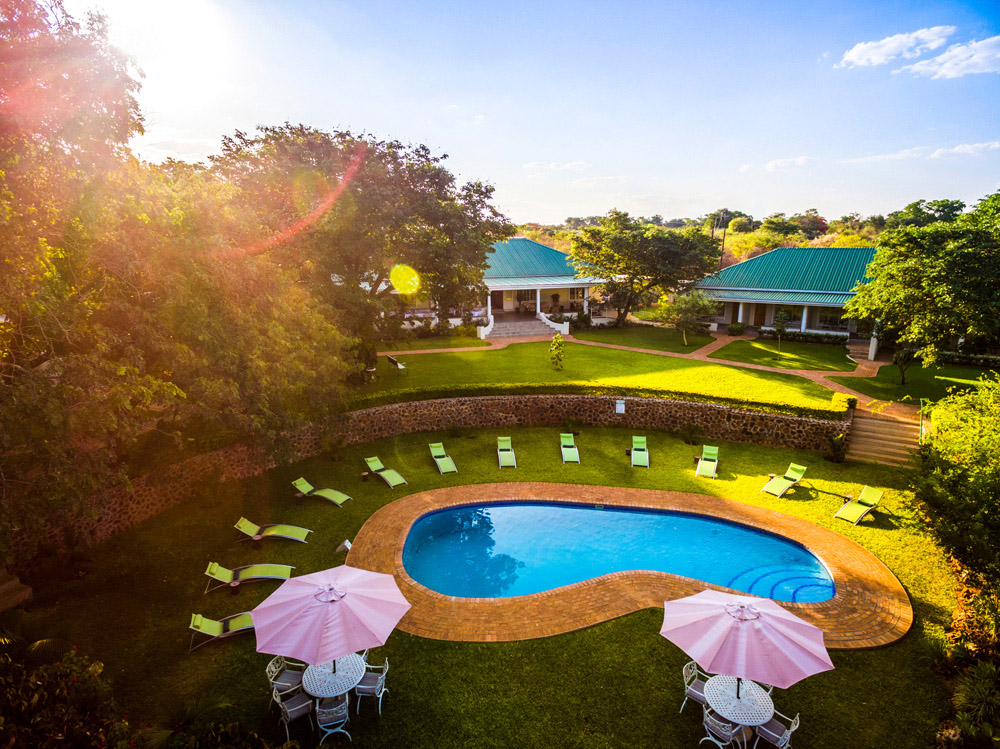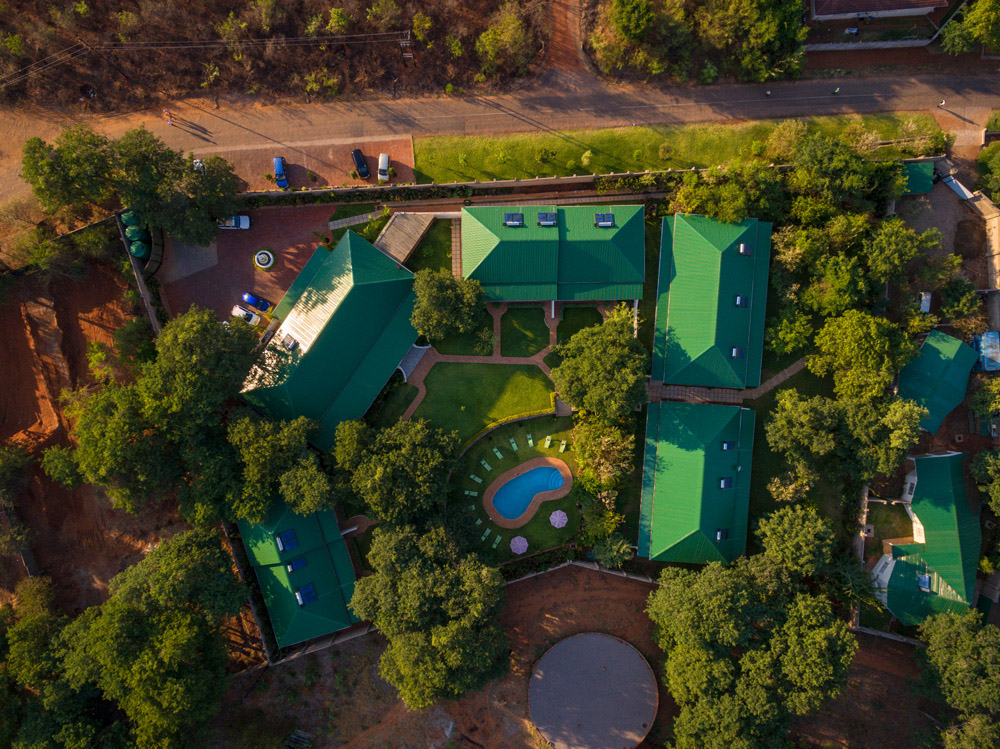 We will return to Batonka Lodge later this afternoon. You will have some free time before dinner and the chance to discuss all we have seen and heard today.


Dinner will be at The Victoria Falls Hotel, in the Jungle Junction Restaurant for a traditional Zimbabwean meal.
The Victoria Falls Hotel offers some of the finest cuisine in the country; with renowned veteran chefs you are guaranteed an exquisitely prepared meal at every sitting. Both the Livingstone Room and Jungle Junctions restaurants offer meticulously prepared menus that are impressive and varied. The hotel is distinguished for its five-star service that is intentionally aimed to leave every guest feeling like royalty. A fine selection of wines and liquors are available to accompany each dining experience.
Dining at the Jungle Junction offers an unforgettable experience with a fusion of African flavors. Entertainment from ethnic groups allows you to experience the true spirit of Africa.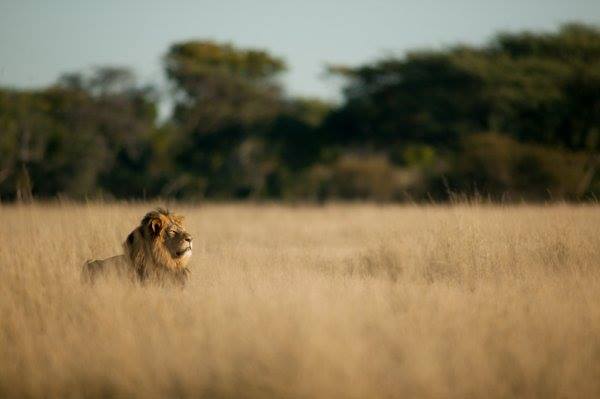 ---
Day 4: Thursday, September 5, 2019 – Hwange National Park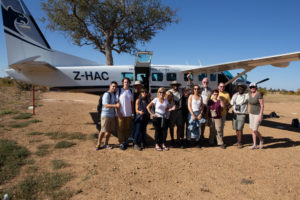 Today, we will transfer by road to the main gate of Hwange National Park, a 2-hour ride in a small bus, on a private basis.

Once you get off the main Victoria Falls to Bulawayo Road, we will make a stop at Painted Dog Conservation Project, also known as African Wild Dogs. This is an informative visit, with a voluntary donation per person toward the research and upkeep of the facility.
Painted Dog Conservation was originally established as Painted Dog Research in 1992. At this time, the human-induced carnage from snares, shooting, and road kills accounted for 95% of all dog mortalities in Zimbabwe. During the subsequent years, a strategy evolved establishing a combination of direct action policies and long-term education and community development programs. Driven by the desire to make a substantial, lasting contribution to painted dogs, nature conservation and importantly to the lives of the local people, the project now employs some 45 staff in its various programs.
The Painted Dog Conservation was founded in 1992 by Dr. Greg Rasmussen, for the protection of the painted dogs and their habitat. Painted Dog Conservation works to engage and incorporate local communities in protecting painted dogs in Zimbabwe. The painted dog, or African wild dog, was once common in Africa with estimates of over half a million spread among 39 countries. Current estimates put their numbers at about 3,000. Since PDC's creation, Zimbabwe's wild dog population has increased from 400 to 700 individuals.
Daily anti-poaching patrols provide direct protection for the dogs, while at the same time making a significant contribution to conservation. The PDC Rehabilitation Facility allows PDC to deal with any eventuality concerning injured or orphaned individual dogs or the translocation of entire packs from problem areas.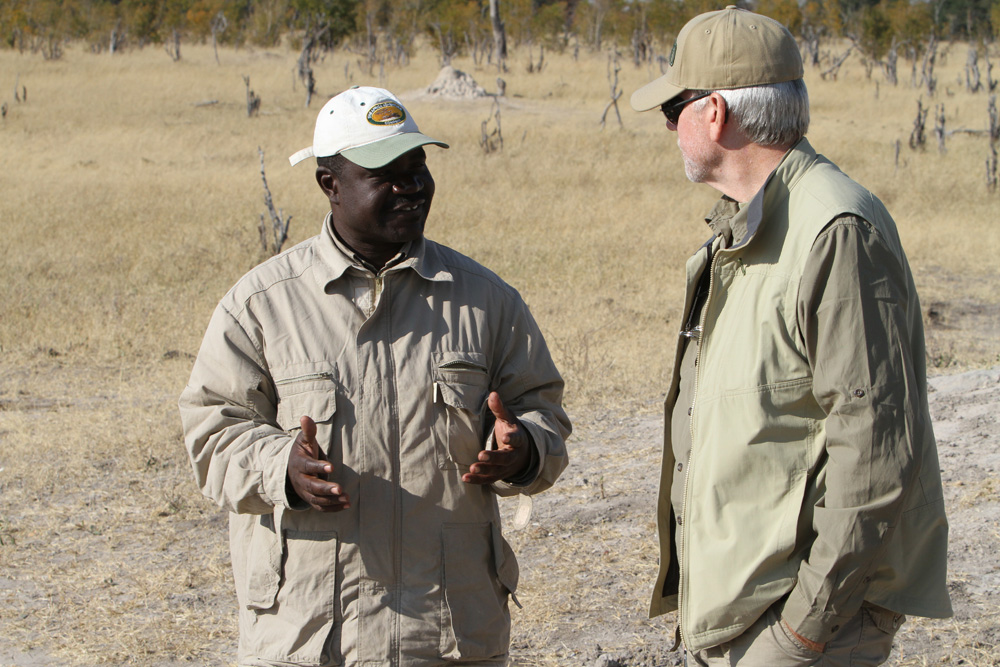 After our Tour of the Painted Dog Facility, we will be met by our guide from The Hide Safari Camp and transferred by game drive vehicles to The Hide in Hwange National Park.
The Hide
The Hide Safari Camp is fortunate to have the "best of both worlds". While located within the Hwange National Park, it is also surrounded by a private concession, which allows the ability to offer activities not otherwise permitted in the National Park. Hwange is a haven for wildlife and one of Africa's premier game parks, bordering ancient elephant paths and a vast grassland corridor. Herds of elephant, buffalo and a myriad of others are drawn to the constant waters of the Hide's waterhole, and the spectacle of the great predators making a sudden appearance is not uncommon.
A foremost attraction is The Hide's waterhole. There are two "hides", concealed viewing areas, right at the edge of the waterhole. This offers a totally secure haven for remarkable close encounters and incredible photographs of some of Hwange's elephants and an array of other wildlife. One of the hides is accessible via an underground tunnel, just steps from the main lodge deck. This tunnel is open throughout the day and evening, and slipping down to see the animals up close is truly a special experience.
The Hide is featured in the recent book "1000 Places To See Before You Die – A Traveler's Life List". For a romantic dinner after a long day of game driving, The Hide's underground wine cellar makes for a perfect spot for a private, quiet dinner for two. Or perhaps you are a bit more adventurous and would like to spend the night in the private "tree house", the Dove's Nest. *NOTE: Private dinners in the wine cellar & sleep outs at the Dove's Nest are based on availability and must be booked in advance.
*

Accommodation: 1 x classic tent on all-inclusive basis for 4 nights Rates include: Meals, local drinks, house wines, up to 4 activities per day, teas/coffees, park fees and laundry.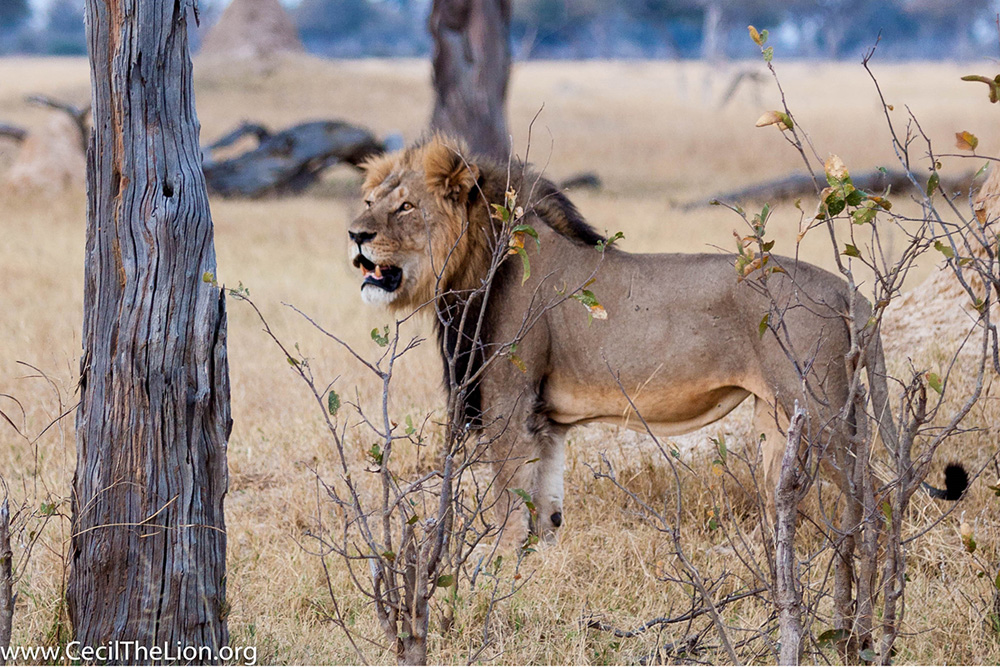 ---
Day 5: Friday, September 6, 2019 – Hwange National Park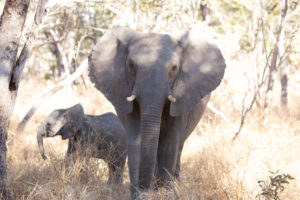 The Hide Safari Camp is fortunate to have the best of both worlds being located within the Hwange National Park but also surrounded by a private concession, which allows us to offer activities not otherwise permitted. Hwange is a vast playground worth exploring so you don't have to worry about being bored. Early morning walks are there for the thrill of encountering wildlife on its own terms and exploring the little surprises of the bush.
The rest of the day can be spent further afield on game drives in search of predators and prey alike. We like to do things properly so sundowners are an important part of the experience. Enjoy the natural beauty with a cold drink in hand. The guides at The Hide are very much part of the family and have been with us for many years. They have undergone some of the most rigorous training in Africa and their passion for and knowledge of the bush is often what makes a safari so special.
There is no typical day at The Hide as it really depends on you how much or little you would like to do. Meal-times are normally a good chance to catch up with everyone and plan the rest of the day or the following morning. As a general rule, we go out-and-about at the same time as the animals – usually mornings and late afternoons or evenings. However, the scope and scale of Hwange's wildlife is such that there is generally always something to see. We don't limit the number of activities you can do, so if you can't sit still, you could do an early morning walk followed by a morning drive after breakfast. In the afternoon you could head out again, stopping off for a sundowner and a night-drive back to camp.
Be sure to venture out after dinner to see if you can find anything out on the prowl. The waterhole at The Hide is particularly special, being the only source of permanent water for a good-sized area. So even if you don't feel like venturing out, you will still be able to enjoy the daily visitors to the camp, which often include elephant, giraffe, zebra, impala, waterbuck and kudu. Lion come in from time to time and wild dog have even made kills in full view of the camp.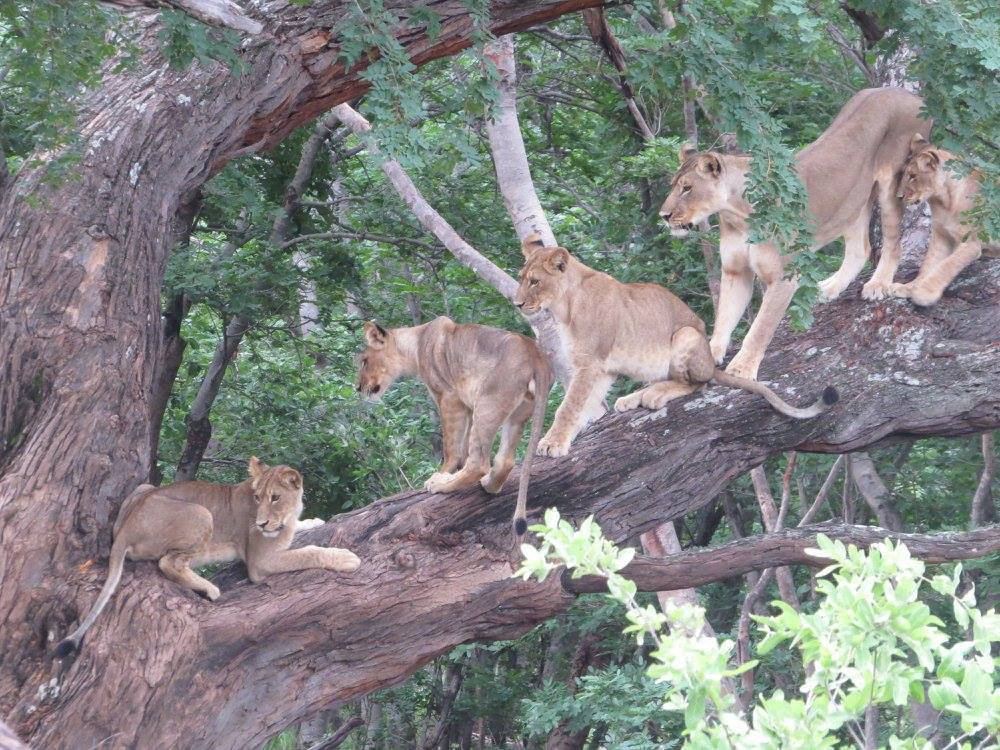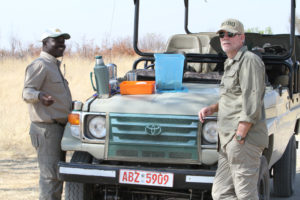 ---
Day 6: Saturday, September 7, 2019 – Hwange National Park
Morning and Afternoon Game Drives. During free time, we have arranged for you to visit The Hide Community Trust. This will be a moving experience for the whole family.
The Hide Safari Camp has recently established The Hide Community Trust, a non-profit organization, committed to conservation and sustainable community development. This Trust runs alongside The Hide and is partnered with a local community that surrounds Hwange National Park. The aim is for the relief of poverty, the promotion of education, as well as the benefits of conservation. Our support to these communities will be through capacity building, community outreach programs and commercial tourism. The lodge itself stimulates the local economy by employing staff from the surrounding communities as well as developing skills. The trust will help tackle the root causes of poverty and environmental devastation. Meaning that the local economy can develop further, with poverty falling and environmental pressures decreasing, resulting in more optimism in the region. Donations will ensure the establishments and the long-term continuation of empowering these people and their children. We aim to establish sustainable programs of education, income generation and conservation awareness. Together we can work to help uplift these people and their quality of life.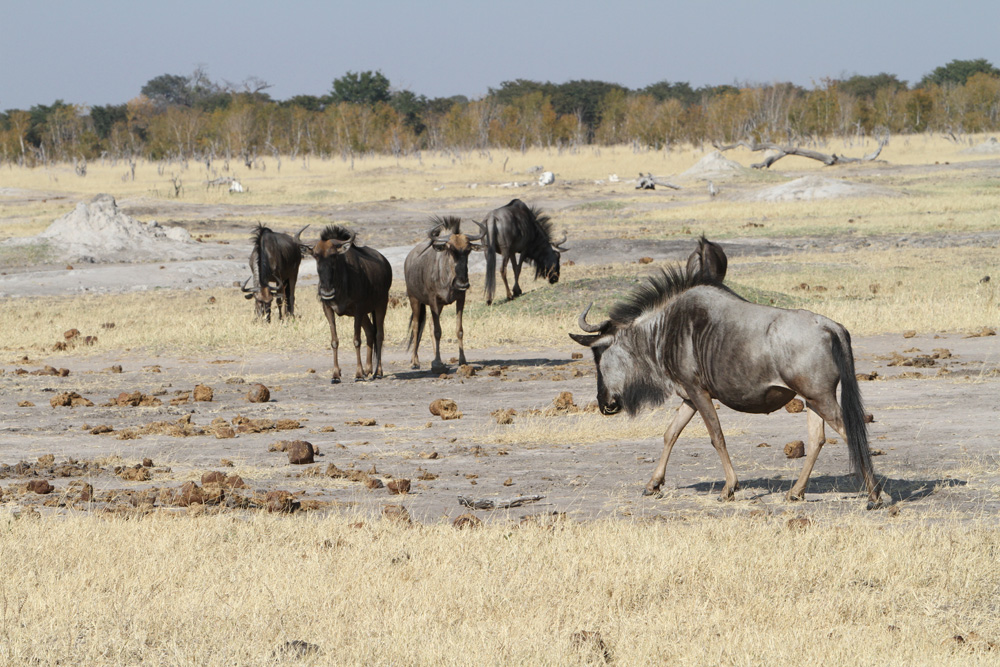 ---
Day 7: Sunday, September 8, 2019 – Hwange National Park
Morning Game Drive and breakfast. Mid-morning, we will hear an inspiring talk by the Hwange National Park's Conservation Manager, on the Hwange Management Plan, The Water in the Park, Friends of Hwange and other conservation projects on the go.
Conservation & Wildlife Fund spend their time working in two areas: firstly, helping to ensure they will be operating in an environmentally sustainable way and secondly, getting staff and guests alike to understand a lot more about conservation issues in and around the places they operate.
The day will come to a beautiful close with an afternoon game drive, sunset drinks and snacks as a group at a waterhole, followed by dinner in camp.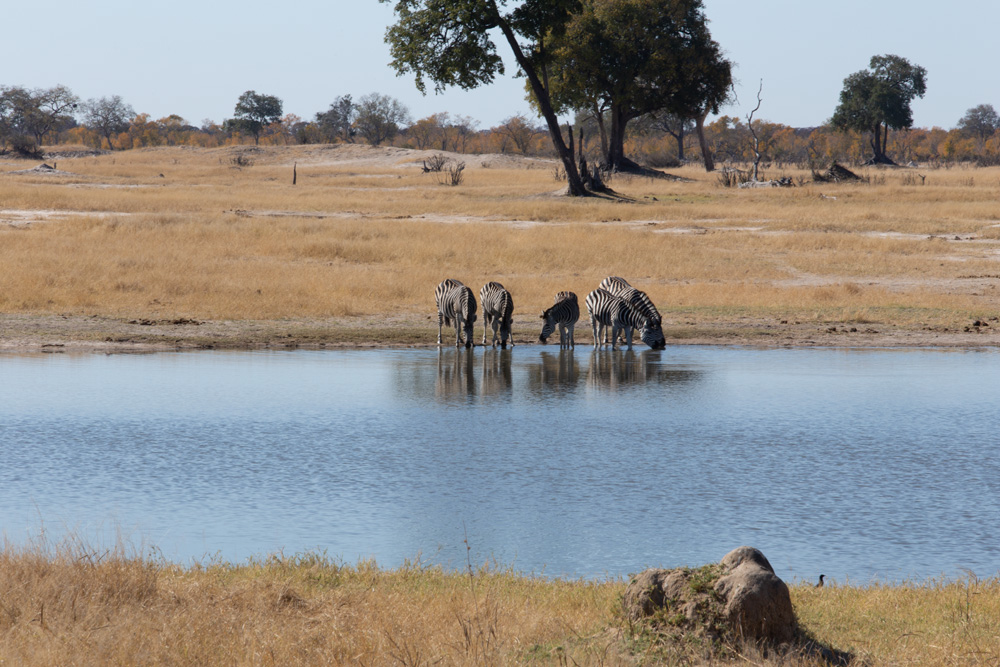 ---
Day 8: Monday, September 9, 2019 – Johannesburg
Sadly, it is time to leave Hwange National Park. You are flown by shared charter back to Victoria Falls Airport. Departure time will be confirmed the prior evening by camp staff.

Thank you for travelling with Exclusive Adventures. Safe travels and we hope you have experienced the true magic of Africa!