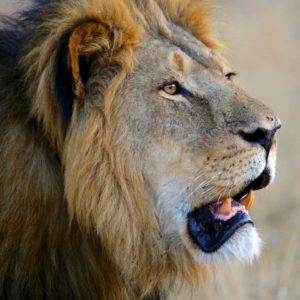 Two years ago on this date, an old male lion was killed in Africa… So what??
Lions have been getting killed by hunters in Africa for centuries. What was it that made this killing any different than the killing of any other lion? What caused this event to coalesce groups and individuals from around the world to decide that this would be the event that launched a worldwide uproar? That lion was nearing the end of its life anyway.
And why should someone care about a lion when there are so many issues of greater concern in our own backyards, neighborhoods, cities and countries? And what has happened in these two years as a result of this event in a place so far away and remote and inaccessible to so many?
These are some of the questions we've been asked in the two years since this Facebook Community was born out of compassion, outrage, conviction and the demand that things must change when it comes to the so-called "trophy hunting", more accurately the slaughter of Africa's endangered and threatened species. Why Cecil? Why did HE matter to so many?
We live in a society where a battle rages on between those who believe that the small planet on which we live is in peril, and those who ignore that. They have the right to disagree, but to do so ignores the reality of the instability of our eco-systems. As administrators of this Facebook page and website, we have endeavored to stay politics-neutral in an environment that puts us at odds with much of the political thinking and policies around the globe this Community occupies. We decided from the outset to keep the page and website open and positive places for people from all walks of life and views to express them freely. If those expressions became disrespectful, the offending party was cut off, no matter what their position. Open dialogue informs us and teaches us about the positions we are up against in trying to change our world.
We used the power of social media to assist in causing several dozen airlines to refuse to carry trophy kills of threatened and endangered species any longer; to cause the US Department of Fish and Wildlife to ban the import of lion kills from canned hunting farms. We met other like-minded groups and joined with them in petition signing campaigns, attended their marches, we called, wrote and emailed hundreds of elected officials around the globe to make our positions known but more importantly, to make our numbers known…
… And our numbers a very well known. All 36,000 of us. The politicians know we are out here. In force. The hunters know. The governments who allow this type of hunting know we are here.
And they know we are not sitting on our hands. Because this year, at least as far as Zimbabwe goes, we are coming to them.
Pamela, Paula and I feel a deep sense of personal responsibility to this Community. We have grown, and matured, and learned and fought together for two years this month. We have honed our fighting skills, used tools that have worked and tried some that didn't. We all made the experience of building a Community positive and fun, through the collection of tribute artwork you submitted and we displayed on the Facebook page. We bonded as a global group to demonstrate the world wide scope of the Community through your photos which were used to create the "Selfies for Cecil" video which premiered on World Lion Day. A simple home produced video announced to the world that we do not only exist on a Facebook page, but we are a global force. Our team is incredibly proud of the work we have all done together.
And with that in mind, we felt very strongly about putting our collective sense of responsibility on the line and going back to Zimbabwe. Not as tourists, but as activists. As emissaries of YOUR Community. To take YOUR voices to the people in Zimbabwe who work relentlessly to reverse the slaughter, to change mindsets, to help them demonstrate to their nation that the hunting economy can be dwarfed by the tourist economy, as it has been in Botswana and Kenya and Costa Rica.
For those not able to join us on this "Cecil Safari – Return to Zimbabwe" group trip next month, we are not leaving you behind. YOU are what make us matter. YOU are why the people and groups we are meeting with want to share their challenges and successes. They know it is YOU that they can count on to join in their efforts to enact change. We are just three people with laptops who help harness your energy and assist in focusing it in places where we feel we can collectively make a difference. We believe we can make a difference in Zimbabwe. Because YOU are the force. YOU are what gives us respect. YOU are positive, you do not seek revenge for what has happened, but demand change for what MUST happen. We are merely your voices and we intend to use them loudly and proudly. It is a privilege to return to Zimbabwe with such an incredibly positive and active group behind us.
So… what was it that made Cecil different from any other old lion? What made his slaughter such a big deal?
YOU. Period.
We could not be more proud of you. Thank you for providing us with the opportunity to make your voices heard. Pamela, Paula and I could not take that opportunity more seriously or with a greater sense of responsibility. We have much work to do. And work, we all will. #cecilthelion